Build Your Practice, We'll Build the Rest
Never before has there been a firm that synthesizes dentistry, design, architecture, and construction. Our concept is revolutionary. Our application is practical. We have the tools to help you build a better dental practice, so you can spend your time providing excellent patient care.
Together, Our Team Helps You Succeed
HJT Dental Design is more than just a dental design firm. With our consulting services, we can help create or adjust your master plan to make sure your dental practice is meeting its financial and benchmark goals.
Increase Your Bottom Line Through Design
Let HJT's team of experts demonstrate how your dental office can be efficiently designed. The value of our combined decades of knowledge and experience can work to maximize the return of your investment and increase patient satisfaction.
I'm writing today to highly recommend the firm HJT. Our dental office was built by another firm, and after a year being there, we started having problems. Water in the crawl space was the BIG issue, and all of the original contractors and project manager were pointing fingers everywhere, from one another to the village we are in. It was a vicious circle, and I felt that because I was a woman, it was more difficult because they weren't too concerned; even though I had my doctor's backing me 100%. This is where HJT came in. I contacted Jim Jarvis and he met with me at our office. He listened to every concern I had, from the water in the basement, to the rubber roofing that was being damaged all the way to noisy toilets and expensive light bulbs. He investigated each of my complaints himself, and either had solutions or recommendations. He contacted people to correct the problems and was willing to help file an insurance claim if needed and add his expert opinion if required.
Unbelievable customer service that describes Jim Jarvis and HJT. If you have any question please feel free to contact me, I'd be glad to talk to you.
~Joe Stultz
Get your FREE Office Design & Construction Process Manual
Whether you are renovating, building a Start-Up or a Stand-Alone facility; the guide is full of MUST HAVE information ensuring you a successful project.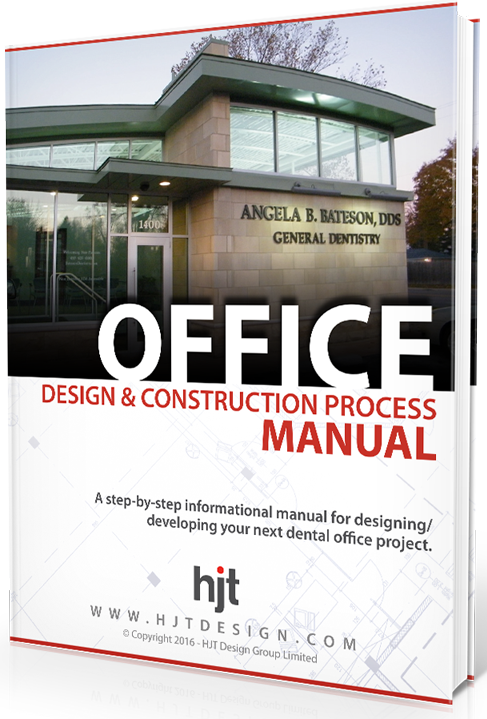 About HJT
HJT is your number one choice in dental design consultants. By combining numerous professionals from different walks of life, HJT ensures a well-rounded experience that you're sure to love and enjoy. Years of working in their own professions, along with the HJT community, has allowed the HJT team to complete hundreds of finished products. Our expertise will easily translate into the time and money you save by choosing HJT.
Whether you're just getting started, or perhaps renovating an existing business, HJT has the knowledge, experience, tools, and technology to meet your needs. You're guaranteed a custom experience when working with HJT, and a personalized design that fulfills all of your hopes and aspirations. Collaboration is key, as we'd like to say at HJT, so sitting down, getting to know you, and understanding your ideas is all part of the process. We design with your ideas in mind, and won't stop until the job is done right. HJT is more than just a design consultant, we're a friend. Let us – a dentist, a designer, and an architect – work with you to build the office of your dreams.