4 Things Your Dental Office Expansion is Missing
Posted by HJT Design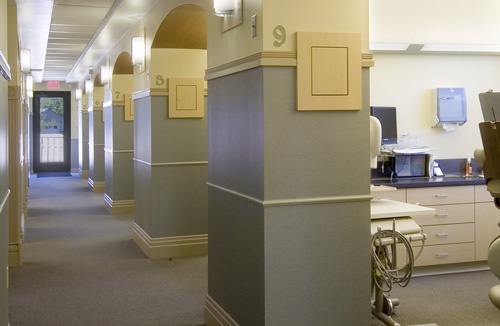 Successfully expanding your dental office requires a lot of thought and planning. An effective practice design reflects your vision for your dental practice and supports the objectives outlined in your business plan. But, this can get extremely overwhelming very quickly. That means important components may be missed.
You want to create a realistic and functional design for your dental office. So, here are four items not to overlook while planning your office expansion.
Good Use of Space
Regardless of whether you plan expand now, in the future, or never, your first step would be to max out what you have. Make your office as efficient and productive as possible.
The floor plan is a key component in increasing office efficiency and building an effective practice design. You want room to move and expand your capabilities. But too much space can be a waste and cost you valuable steps to get across the building. In turn that wastes your time. You need a balance between efficient traffic flow and comfortable movement between work zones for both staff and patients, from public to private spaces.
Functional Balance
Your aim should be to maximize production areas (x-ray room, doctor rooms, and hygienist rooms) and minimize all nonproduction areas. This will bring you an optimal function balance. That means your project incorporates the principles of architectural design, clinical function, technology integration, and ergonomic design within the scope of your budget.
These elements work together to produce a balanced, functional, well-designed practice that expresses your personal vision while effectively meeting the needs of your patients.
Updated Equipment
Staying current with technology is a critical way of staying competitive in today's dental market. Using up-to-date technology not only improves the overall proficiency of your practice, but also communicates to your patients that they will receive the utmost in care from you. If it helps productivity and efficiency, spend money on it.
Updated equipment doesn't have to mean space-age technology. It can include everything from the latest in digital radiology to ergonomic patient chairs that address not only the patient's comfort, but the doctor's and clinical team's comfort as well.
Visual Appeal
Your office décor also should not be overlooked. It is important that your practice has general physical appeal to patients and presents professionally in order to instill confidence. The way your office looks reflects your abilities. You want your office to communicate professionalism and excellence.
Before starting any expansion project, whether it's a complete start-up or a small upgrade, it's important to understand what your business objectives are. The key is to think through your project carefully and fully understand why you are doing it. The better you understand your objectives, the better you will execute your plan.
HJT Dental Design Consultants can help you achieve your goals. Call today to plan the right expansion for your practice.