Can I Fit 5 Operatories in a Narrow Dental Office Space?
Posted by HJT Design
When working with a narrow dental office space one of the main concerns is how to fit your operatories in a way that works effectively without disrupting the flow of the office. Before designing a narrow dental office space you will need to answer the following questions to determine which configuration you will want to utilize.
Are there any unusual or odd shaped spaces?
Where would you like each office department located, such as reception, clinical and mechanical support, and supply and staff areas?
What size does each office department area need to be to work efficiently?
How small can you make your operatories and still be comfortable?
Once you have addressed these issues, you will need to choose your dental office configuration. When deciding on the configuration, it is extremely important that your math adds up. You are working with an extremely limited amount of space, so every inch counts. Laying out your plan accurately on paper may also help you determine which configuration will work best to you and achieve the look you desire. When working with a narrow bowling alley rectangular shape, you will basically have two configurations that will work, front-to-back and side-to-side.
Front-to-Back Configuration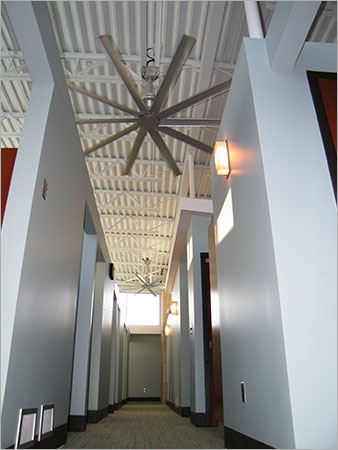 In a front-to-back configuration, the operatories will be stacked on one side of the office space. This configuration allows access to the rooms with one side entry at either the head or the foot. For this configuration, a width of 16 to 18 feet will be ideal and provide for the operatories to be an average of 8 to 10 feet. The rooms will be attached to a 4 foot wide corridor. This configuration will provide usable space opposite of the corridor that is 5 feet deep. In this design the front of the office including the waiting area, scheduling and reception desk will be in the front, while the back area will contain the staff and supply area as well as mechanical and clinical support spaces.
While this style will promote an efficient office flow, some may find the 8 foot operatory size to be too restrictive. Because this may be a smaller area than you are used to working in, it is advised to mockup the size of the room and test out the flow of the space to see if it will be sufficient for your work environment.
Side-to-Side Configuration
The side-to-side configuration typically requires space that is 20 feet wide or more. The operatories will be approximately 11 feet wide and will be aligned on one side of the office suite. This design will allow for dual entry into each operatory. The layout will also contain a 4 foot wide corridor and an additional 5 feet deep useable space opposite of the operatories. Life the front-to-back, reception, waiting, and front desk areas will all be at the front of the office space and the staff and support areas will be in the back.
Whichever configuration you choose for your office, it is important to first plan your layout to make sure that you are using all the available space to its maximum potential. While having a narrow dental office space with 5 operatories may seem like an impossible task at first, with proper planning and a little creativity, you can create a high functioning and efficient office.
If you are looking for an experienced professional to help you tackle your dental office design task, contact the experts at HJT to schedule your free consultation today. HJT professionals have the experience and the know how to make even the smallest office space into an efficient dental office.