Adding A Kitchen To Your Dental Practice
Posted by HJT Design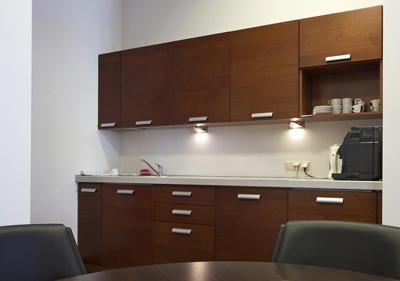 It's common for a wide range of businesses, including dental offices, to include kitchens. If you are a manager looking to remodel your kitchen at work, it helps to prepare a remodel checklist before you decide on a complete solution. Naturally, a small to medium business wants to spend its money as efficiently as possible, whether renovation is for aesthetic value or return on investment.
Envisioning a Better Kitchen
Launching your own dental practice means you need a location that makes sense, but it also needs to look modern since it's a business that involves science and evolving technology. Modern technology and perceptions of cleanliness go hand in hand. Even employees expect a dental office to be state-of-the-art and not have a run down kitchen. The problem is many dental entrepreneurs are so busy with growing their patient base and managing their practice that it's difficult to devote time to renovation or expansion. It usually helps to work with a kitchen cabinet design expert, meaning an experienced, knowledgeable and licensed contractor.
If your goal as a business owner is to grow your practice, it's essential to work with the right contractors who can help you build and design or expand your enterprise. Adding a second location is a monumental achievement that physically shows your business is growing beyond its original flagship office. Even if all you want to do is remodel your kitchen, it marks a move toward progress in your operation and can be considered a company milestone.
Preparation for Kitchen Renovation
set expectations and priorities
figure out your total budget for the project
discuss your vision with a kitchen designer
check lighting and square footage
ensure compatibility for appliances
consider aesthetics on flooring, tiles, cabinets and countertops
check with local government on permits
Deciding on Your Kitchen Remodel Team
The most important part about choosing a kitchen design team is making sure you are working with experienced professionals and not a new here today, gone tomorrow company. Those companies try to undercut the market to attract clients but don't always have the proper skills or knowledge to do precision work.
Highly trained and skilled kitchen designers take the finished product seriously because they build their reputations on client satisfaction. They are prepared with proper tools for making accurate measurements and building the project as efficiently as possibly. Since the remodeling is for a workplace, it needs to look professional and everything such as appliances and cabinets need to function properly. Hobbyists and handymen can't always provide the appropriate tools, which causes them to cut corners on quality. A reputable custom kitchen designer, however, will guarantee quality installation.
Conclusion
One way for a dental office to create a more upbeat atmosphere with its staff is to remodel the kitchen or other parts of the office. It shows employees that their employer cares enough about them to improve the workplace. The best way to approach such a project is to develop a kitchen remodel checklist based on analysis of your existing kitchen components and desired improvements.