St. Marys
Posted by ngfmarketing
History and Program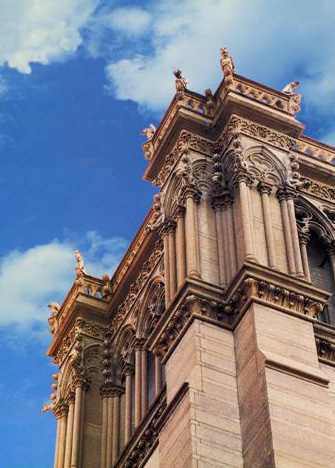 The Covington Cathedral Basilica of the Assumption, located at 12th Street & Madison Avenue in Covington, Kentucky, USA serves as Mother Church to the Covington Diocese. This area includes many counties in the northern and eastern parts of the State of Kentucky.
St. Mary's Church opened in 1837, the first Roman Catholic Church in Covington, Kentucky. In 1895 the St. Mary's Cathedral was nearly complete: the interior being modeled after the Abbey Church of St. Denis in Paris while the facade would mirror Notre Dame de Paris. Built in the 13th Century French-Gothic style, and constructed of Indiana limestone, the Cathedral's interior shines with beautiful appointments. Among them, 82 hand-poured stained glass windows crafted in Munich, Germany, including the 24-foot wide by 67-foot tall window in the north transept, one of the largest in the world. Two rose windows (each being 26 ft. in diameter) grace the west and south clerestory and are modeled after those in Notre Dame Cathedral.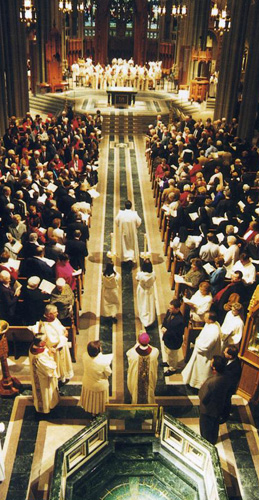 The Stations of the Cross, which line the peripheral walls, are made of Italian mosaic. Each mosaic contains at least 70,000 pieces and measures 3-feet wide by 6-feet tall. The Blessed Sacrament Chapel contains a triptych portraying the history of salvation by area realist painter, Frank Duveneck. The font of the Baptistry is carved from one solid block of marble from Pietrosanto, Italy. A baldochino (canopy) of carved Appalachian white oak soars over the apse area inset with hand-carved figurines of saints. In 1953, St. Mary's Cathedral was designated a minor basilica by Pope Pius XII, hence her present name – Cathedral Basilica of the Assumption.
The Cathedral was built by local artisans and craftsmen, while funded by the donations of the faithful. The cornerstone was laid on September 8, 1895, while most of the major exterior construction being completed by 1910.
Today, the Cathedral Basilica welcomes some 70,000 visitors each year from virtually every corner of the globe.