St. Teresa of Avila
Posted by ngfmarketing
History and Program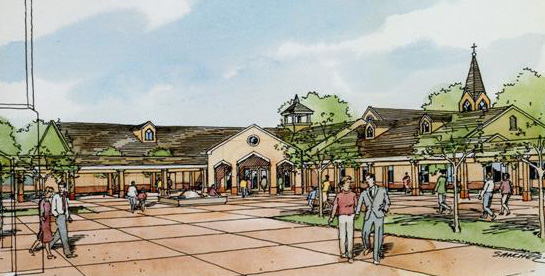 The relocation of an existing parish of 6,000 plus to a new location on donated land adjacent to a dedicated wetland and city park. The new facility was designed to have a 1,200 seat Worship Space (which can be enlarged to 1,600) along with an attached Day Chapel for 100. The multi-purpose space was designed to house 8 meeting / classrooms which are divided by moveable acoustical panels that can be moved off to the side to allow for a banquet facility of 500+. The attached Day Chapel is located adjacent to the worship space and the tabernacle is located in a wall that divides these two spaces.
Design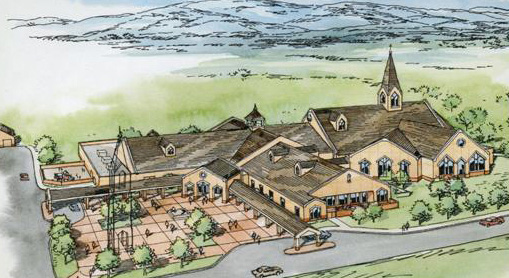 Three building elements, Worship Space, Day Chapel & Parish Multi-Purpose Space form a building composition that are set against the Sierra Mountains visible to the west at the foothill entrance to Lake Tahoe. An outdoor plaza that contains the Easter Fire is located on the southeast side.
Strategically placed windows on the far west side provide a panaromic view of the mountains beyond, terminated by an outdoor patio beyond. As you enter into the worship space you are greeted by the baptistery which lays on axis with the altar. The worship seating is configured in a fan design so that all have an opportunity to become one community as they celebrate the liturgy. The high volume space is framed by a series of dual wood timber-style trusses which provide the framework for the wood plank decking all focusing to the center cupola ringed by windows. The cupola is reminiscent of the existing church structure with its cross and provides an important traditional symbol to all as they approach the new facility. Light streams in through these windows with the perdulum placed so that the altar is located directly under the intersections of the cross shape space.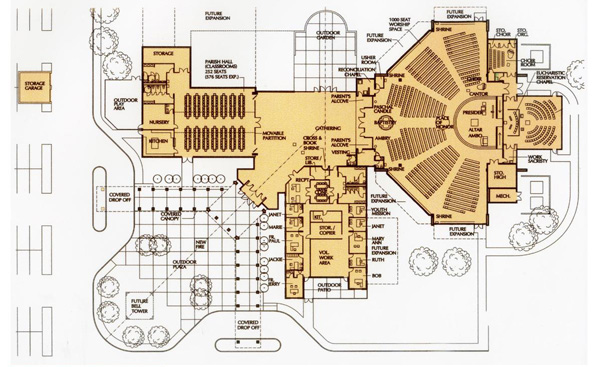 The Blessed Sacrament Chapel houses a two sided Tabernacle that was relocated from the existing church's. The existing church stained glass windows were relocated and placed within the new windows of this space. The parish hall which is located opposite the entry into the worship space needed to also serve the needs of meeting / classrooms as well as be flexible in its configuration as the needs of the parish change over the years. This was done utilizing a series of folding acoustical panels that can be configured in numerous ways. This allows the parish hall multi-purpose space to be opened up into the gathering space allowing a space that can comfotably seat 500 for a banquet. Thus creating the largest space of this type in the city. The Administrative spaces are located to the east side of the gathering space allowing the complete facility to flow around this centralized hub.