The Cost of Creating a Dental Office in a Strip Mall Space
Posted by HJT Design
Why would anyone build their dental practice within a retail shopping strip? The obvious answer would be "exposure." It's all about being seen. Whether you are building a start-up or a second location, being part of an established retail shopping strip can be an ideal option.
Construction cost per square foot in such spaces is very similar to multi-tenant condo units and/or commercial/medical office buildings because in all three cases you are only building out the existing tenant space. Amenities that might offset this balance could include public bathrooms and/or break rooms, because they are often part of commercial/medical office buildings but are often not part of retail shopping strip locations.

Size of Space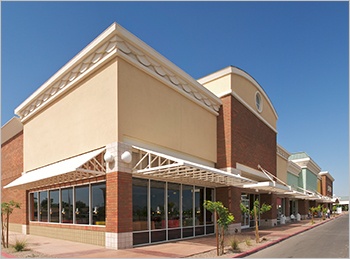 When determining the size of the space you will need for your office, you can use the same rule-of-thumb of 300-400sf per treatment room.
Listen to the Podcast
This should provide you with sufficient space for needed or desired amenities such as public restrooms within your suite. Remember that rectangular-shaped spaces without a lot of structural columns are ideal for providing optimal floor area.
Considerations for your long term business goals should also play into the selection of the suite and its placement within the retail shopping strip. If you're interested, an ideal space should afford you the option to expand when the time comes, perhaps out into the adjacent suite. An end cap unit will limit this option.
The Environment
Big regional grocery stores and nationally-recognized franchise restaurants or coffee houses invest large sums of resources into finding locations that provide them with the greatest demand for their goods and services, as well as good visibility, good access, safe surroundings, and convenience to their target consumers. This diligence assures them continued success. Take advantage of these brands and be one of their neighbors for the shared benefits. More and more dentists' offices are finding homes in retail shopping strips. If you run or are about to run your own practice then why not consider being near them?

HJT welcomes the opportunity to discuss your project needs and apply our expertise and experience in assisting you achieve your practice objectives. The cost of creating a dental office can vary greatly from project to project. We can help.
Regardless of the magnitude and complexity of your project, our staff of experienced professionals are poised and ready to help navigate you through the process and fulfill your specific needs. If you're not too sure where or how to start with the process, contact HJT to schedule a free consultation for answers and knowledge to prepare and empower you in moving forward with confidence.