Using Your Dental Office Design to Highlight the Skill of Your Team
Posted by HJT Design
When it comes time to design your new dental office space, you may be wondering which factors are most important to highlight you and your team. While many people dread visits to the dentist, you can take a few steps to improve your dental office design and offer comfort and reassurance to your patients.
Smooth Transitions
One problem that many dental office designs seem to suffer from is having a poor workflow from start to finish. No matter what procedure your patients are coming in for they will all need to start at your reception counter and work their way through your building. Planning your operatory layout so that simple cleanings can all be done toward the front will limit the amount of foot traffic through your space. Your back operatories can be specialized with equipment and tools that are only going to be used for more in depth procedures.
Pay Attention to Waiting Areas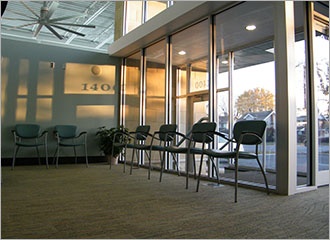 Regardless of how smooth your operation runs, a proper waiting room is imperative to a successful dental office design. Patients and their families will be sitting in your waiting areas, typically prepping themselves for the procedure they are about to undergo. Spending a little bit more time and money making your waiting room extra comfortable will help relieve their stress. The lighting, decor and furniture all go a long way towards helping. Even the temperature and awareness of sun coming in from the windows can come into play.
Always Put Your Best Foot Forward
As patients enter your lobby and head for your reception counter, make sure that your dental office design leaves plenty of open space for your team to greet customers. A closed off reception desk or a desk that doesn't have a good view of the room makes it difficult to communicate. Keeping things open and keeping your team visible at all times gives patients the feeling that you are available to help them at all times.
Patients are always on the lookout for a dental office that isn't intimidating. By opening up your layout and keeping patients comfortable you can improve their experience all around. In addition, by planning your operatories so that simple cleanings and routine checkups can be done with minimal disruptions to the remainder of your office, you can keep patients away from some of the scary equipment that often causes so much strife. Everywhere your patients go they will find comfort knowing that your team has directed them efficiently and effectively so that they can get back to their normal routine as quickly as possible.
Regardless of the magnitude and complexity of your project, our staff of experienced professionals are poised and ready to help navigate you through the process and fulfill your specific needs. If you're not too sure where or how to start with the process, contact HJT to schedule a free consultation for answers and knowledge to prepare and empower you in moving forward with confidence.