The Elements You'll Need for a Successful Dental Office Remodeling
Posted by HJT Design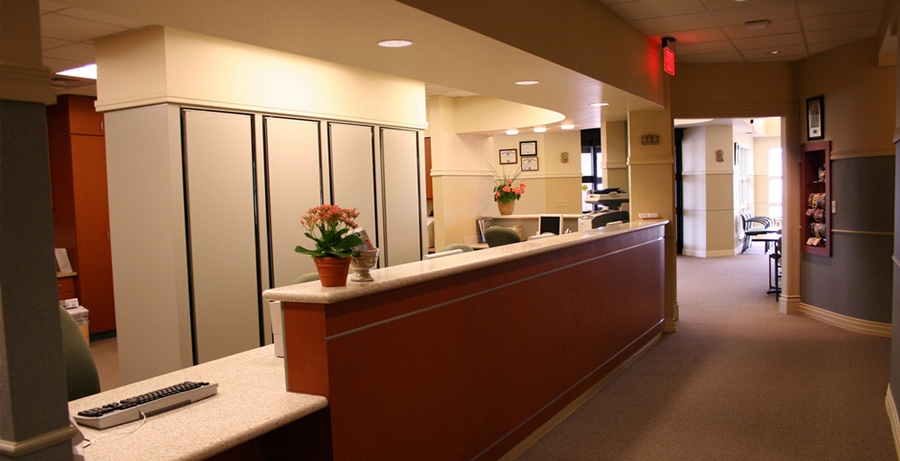 Dental office remodeling can help rejuvenate your practice and enhance both your employee and patient experience. However, a proper remodel must be comprised of four basic elements in order to see positive results. From the time a patient steps through your front door until they are checking out, your office must be accessible, transparent, logical and comfortable.

Accessibility
The only way to truly provide your patients with top notch service is to ensure that they are welcomed promptly, signed in quickly, and moved through your operatory in a timely manner. To achieve this effectively, it is important that your front desk is visible and accessible directly from the front door. Patients should not have to weave between chairs or turn corners to find your receptionists. In addition, using glass or open counters at your front desk will keep your staff visible and accessible to patients in the waiting room.

Transparency
While it is important to protect patient privacy throughout your practice, a certain level of transparency between your operatories will help you staff communicate better and move quickly from one patient to the next. Integrating your hygiene rooms into the workflow of your more advanced operatories will ensure that your hygienists are included in all of the most important updates. This also makes it easier to restock rooms and maintain equipment in all of your operatories.

Logical Workflow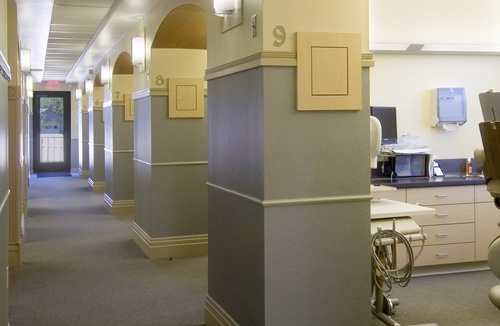 Reducing foot traffic through your office should also be an important part of any dental office remodeling. Since the majority of your patients will be going in and out of the hygiene rooms, your hygienists should be located near the front of the office, while more advanced equipment can stay in the back and out of the way until needed. There should be very little need for your staff and your patients to be caught in traffic jams in your hallways if your office is set up logically.

Comfortable
Lastly, comfort has become an essential part of any successful dental office remodeling. Upscale furniture, artwork, lavish bathrooms and other features are becoming standard fare in the dental business as patients seek ways to relieve their stress and worries. Keep in mind that you can decorate your office in any style you want while also minimizing clutter. This is true of your lobby and your operatories. Patients even notice when you take the time to wall mount or embed tools in your operatory so that they are not taking up valuable real estate on the floor. This open feel keeps your patients from feeling like all of the intimidating tools are closing in on them.
These four essential traits of dental office remodeling can greatly impact the way your patients experience your practice. If you take the time to make sure that patients will always be in sight of staff, and will never get lost on their way to a procedure, you can help minimize their exposure to the most stressful parts of their dental visit. By providing plenty of comfortable seating and decor, you can make their waiting as pleasant as possible, and start them off on a positive note before they ever step behind closed doors.
Regardless of the magnitude and complexity of your project, our staff of experienced professionals are poised and ready to help navigate you through the process and fulfill your specific needs. If you're not too sure where or how to start with the process, contact HJT to schedule a free consultation for answers and knowledge to prepare and empower you in moving forward with confidence.