Remodel Your Dental Office Space for ADA Compliance
Posted by HJT Design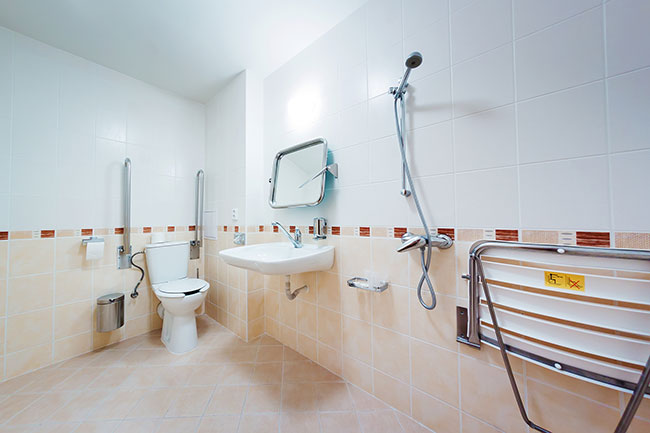 The American with Disabilities Act (ADA) from 1990 requires that dental offices comply with set ADA regulations to earn a Certificate of Occupancy. ADA compliance is a requirement for all facilities that provide services and goods. Creating an ADA compliant dental office space means you can provide services to a more diverse clientele, which increases your clinic's profile.
When planning to remodel your office, you can choose to update your current design to meet ADA guidelines or choose to restart your office design from the ground up. Remodeling also means that you increase floor space to ensure wheelchair accessibility.
ADA Rules
For starters, all your restrooms must have large accessible bathrooms, with grab bars at the back and the sides of the toilet with a large handicap-accessible sign on the door. The parking spaces closest to your dental office entrance should bear a wheelchair symbol. Some other considerations you should make during the remodeling space include:
Doors
ADA compliant doors must have at least 18-inch clearance if the doors swing inwards and 12-inch clearance for doors that swing outwards. These allowances make it possible for wheelchair users to position themselves on the doorways and swing the doors without collisions. Creating ADA compliant swing doors means that you will need approximately 45 sf for each door as opposed to about 25 sf in the pre-ADA design. Additionally, all doors must also have appropriate hardware such as levers instead of knobs.
Bathrooms
All bathrooms must have at least a 5-inch diameter turn-around areas, to ensure free movement for wheelchair user while in the facility. Additionally, sinks and vanities must be at a logical height with under counter clearance.
Treatment Room Tables
Treatment room and exam room tables must have adjustable support rails with enough space adjacent to the table to position the wheelchair for transfers. This may include movable armrests and rails to ensure smooth transfers. All exam tables must also have support aids such as roll up blankets and wedges.
Patient Lifts
Depending on your space and design approach, you can either install patient lifts on the floor or mount them on an overhead track, which you can either attach to the ceiling or to a freestanding frame. Creating patients lifts can be quite expensive, which may limit your ability to install them in all treatment rooms. Choose one room for accessibility and install it with all the tools necessary. However, make sure you can use the room to administer all services a dental patient may need. Always ensure that you are not in a position where you may have to send a patient away for failing to provide an accessible treatment room.
Wheelchair Ramps
Another ADA compliance regulation demands that you provide wheelchair ramps for ground floor dental offices, with extra railings for easier movement, and elevators for multilevel dental facilities.
Considerations
While the ADA provides a number or regulations for accessibility, you can go the extra mile and make your dental office more functional. For example, a blinking and/or voice-enabled alert system to inform patients when it is their turn to see the doctor. Such features will help you serve blind and deaf patients better.
Remodeling your office to comply with ADA regulations may mean making a significant investment. Additionally, you need to train your staff on ADA regulations and proper patient handling for the disabled. Consider working with a contractor such as HJT consultants to help you with designs that ensure you comply with the ADA. Their experience and expertise will help you get the best quote possible.