Design Ideas for your Dental Office Reception Area
Posted by HJT Design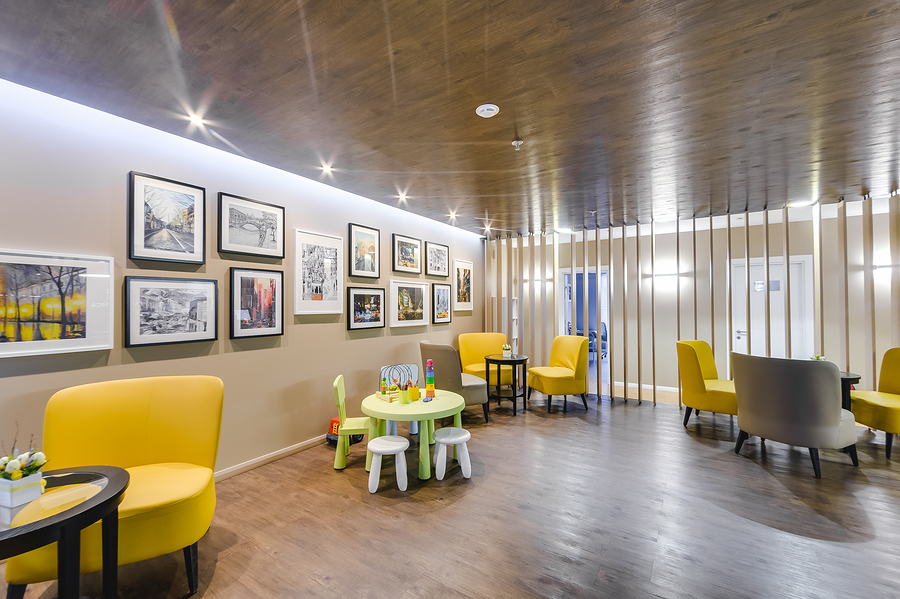 Dental offices are often associated with being cold, sterile, and perhaps even painful and anxiety inducing. For the already apprehensive patient, first impressions definitely matter. Your reception area is the first stop for patient visits. Therefore, it's important your reception area experience is a positive one.
When planning a dental office design, it's important to keep these three goals in mind when creating the perfect patient reception area:
Provide Patient Privacy
Providing your patients with an adequate amount of privacy is paramount in helping to keep your patients feeling secure and comfortable. When jotting down your dentist office design ideas, it's important not to lose sight of the need for patient privacy. For example, something as simple as keeping a decent amount of distance between waiting room chairs in relation to the front desk can do wonders in making a patient feel at ease during the check in or check out process. Many patients have personal details to discuss, such as embarrassing health concerns or pressing financial and billing issues, and they may not be so inclined to speak openly if patients are seated directly behind them within earshot.
Speaking of waiting room chairs, they should ideally be arranged in small groups, leaving some extra arm and leg room, as there is nothing more awkward than being forced to share an armrest with a stranger.
Set the Mood and Tone
Since patients may already be feeling anxious about an upcoming procedure, it's important to try and set a calming ambiance in the reception area.
Lighting has been shown to have an effect on a person's mood and behavior, so having proper lighting in your reception area is a must. Consider adding a soothing water feature, along with some beautiful artwork or plants to offer some peace and tranquility.
When it comes to the design elements, start by painting the walls a clean, modern, neutral color with a pop of color in the accents. If nothing else, make sure your reception area is clean, tidy, and well organized, which will help to decrease anxiety levels.
Include Entertainment and Relaxation
One of the simplest ways to impress your patients and keep them happy is by providing them with basic entertainment, along with a few simple necessary items to help them feel relaxed and comfortable. For example, placing a large flat screen television in the waiting room, along with updated magazines, interactive tablets, or even a small bookshelf for patients who love having something to read or flip through will help pass the time.
Consider offering infused ice water, coffee, or tea to make them feel welcomed and appreciated. It's the little touches that can go a long way in making patients feel right at home.
Having a designated play area for patients toting children, along with having a changing table or a family restroom should also be a priority.
Visits to the dentist aren't always welcomed with open arms. However, updating your outdated dental office will make a big difference about how they feel while they're in your care. In fact, they may even look forward to their next visit with you. Contact us today to see how affordable a dental office redesign can be!