Design Trends to Improve Your Dental Practice Waiting Room
Posted by HJT Design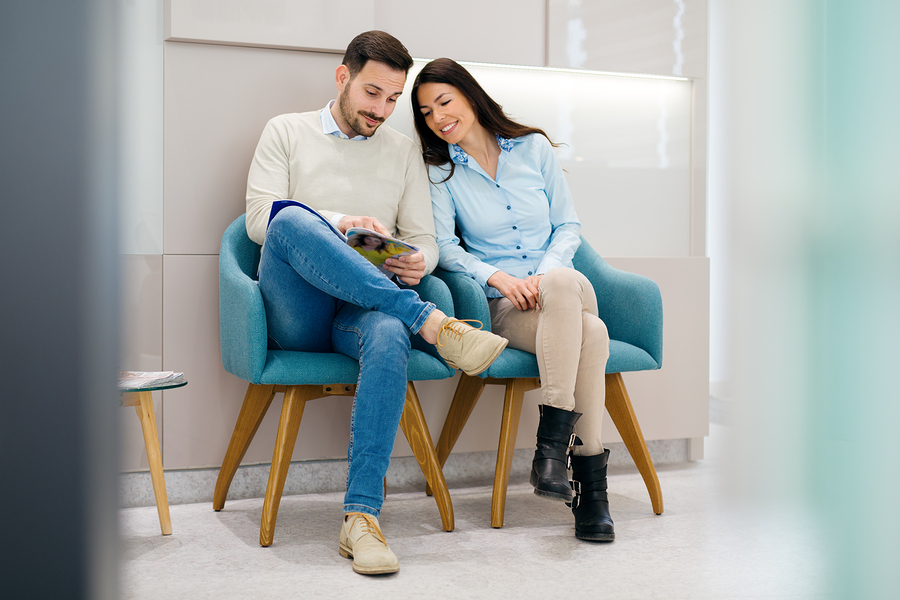 We all have but one chance at making the right first impression.
Let's look at what can affect a patient's first impression of your practice and how to improve it.
Many business owners share the same common guilty status when it comes to the exterior surroundings of their business.
Overflowing refuse containers, overly soiled or stained sidewalks, a scatter of trash and debris, and a dilapidated or dirty front entry are a few areas that could deprive the practice of receiving the first impression gold star sticker before your patients even enter your practice.
Let's go inside and talk about the waiting room. The waiting room is the first and primary public space to meet and greet patients (new or current). Therefore, it's a good space to invest a good chunk of your money and staff hours to truly impress visitors to the practice. Below are a few design jewels for consideration, aside from the obvious importance of tidiness and cleanliness.
Quick to Judge
A dated, worn out design, and a drab waiting room can negatively impact the way your patients interpret your quality of care. To counter, start with a good design. If starting from scratch, implementing a regular maintenance and upkeep schedule of the practice will be an investment that will prolong the finishes you choose and reduce premature damage or replacement needs. Take a proactive role in regularly tiding the public spaces in the practice (waiting room, restrooms, clinical corridor) and replenish consumables and disposables, as needed because details matter.
Seating Arrangements
"If it's not broke don't fix it." can be an easy cop out for just about everything. Take waiting room seating, for example. What's so wrong with a line of chairs placed against the wall in row? After all it's the most efficient way to utilize the square footage and yields the highest seating count. True on all points but do take into consideration basic human behaviors and how we prefer to use public spaces. If your waiting room has sufficient floor space, consider clustering groups of chairs to create a few seating arrangements to [1] detract from the "I am in the dentist's waiting room" perception, and [2] create friendlier seating groups for families to promote conversation and interactions; which we all know can make any wait time seem shorter.
Quality of the seating and seating types also play an important role in your patient's waiting room experience. Choosing a diverse blend of seating will provide patients (and their companions) with seating options, which may include side chairs (with and without armrests), loveseats and sofas (if space allows), and lastly bariatric seating; satisfying the needs and preferences of the individual patient, couples, and families.
Though one may want to make the waiting room an extension of their family room in their home, this design goal should be approached with careful and well thought out consideration. Durability, comfort, maintenance, and regulatory compliance should be the guiding principle used in selecting furnishings for your waiting room.
Furnishings made for residential environments may or may not be constructed to hold up to the frequency of use for commercial spaces and may or may not be following fire rating requirements. Upholstery selections should be easy to maintain, durable, and comfortable. Avoid selecting hard formed stackable plastic school cafeteria-type seating (more ideal for kids) and any wood seating, as well as overly soft and oversized seating…as they don't define comfort very well.
Amenities
When the discussion turns to amenities, it usually starts with "What should I provide? How much is too much and how little is too little?"
Trends change, almost as fast as they arrived. Before adapting or adding amenities into your practice, decide how the new changes will affect your overall office function and the value it may bring to the practice. Applying the K.I.S.S (Keep It Simple Sweetheart) principle will help maintain harmony within your office.
Including amenities are best done during the designing of the office; however, the amenity discussions often surface for existing offices. It's important to explore how to best implement the desired amenity with minimal physical modifications to the office space. The standard coffee, water, bottled water, hot cookies, small package of snacks all can make the lounging visitors feel a bit more relaxed and perhaps pampered. Free access to electronic technologies and plug-ins allows high demand users to surf for information or get some work-related tasks done. Amenities should be geared towards the patient base you serve and the practice's core specialties. If you provide printed publications, again, variety matters.
Aesthetics That Fit
Your office aesthetics should align with your patients' demographic and practice specialty. The primary goals include easy maintenance, durability, comfort, and a welcoming atmosphere…which applies to all dental practices.
For general adult practices, wall and ceiling mounted TVs are a classic waiting room staple, add a virtual aquarium, some artwork, and your design aesthetic will be all but a home run. Plants are always a good addition, as they add warmth, texture, and color.
Dental practices geared toward children, such as pediatric and orthodontics practices, the rules change a bit to allow for more fun and perhaps even a few wows. This means bright colors, fun patterns, and graphics. More rounded corners and indestructible surfaces are a good idea too. Perhaps a playhouse, a theater or theme caricatures, railcars, sports, superheroes or even Disney characters…your office, your budget, your call.
The dental office waiting room is the first thing your patients will experience when they enter your practice. Creating a clean, well designed, and thoughtful space that is comfortable for a wide range of patients can contribute to the overall positive first impression of your practice.
Have needs or want to create a waiting room to impress, but feel like you're not sure where to begin? You are invited to contact HJT Dental Design Consultants [@419.410.1562] today to discuss how we can apply our design expertise and experience toward achieving your overall design objectives.