Door Options For My Dental Office
Posted by HJT Design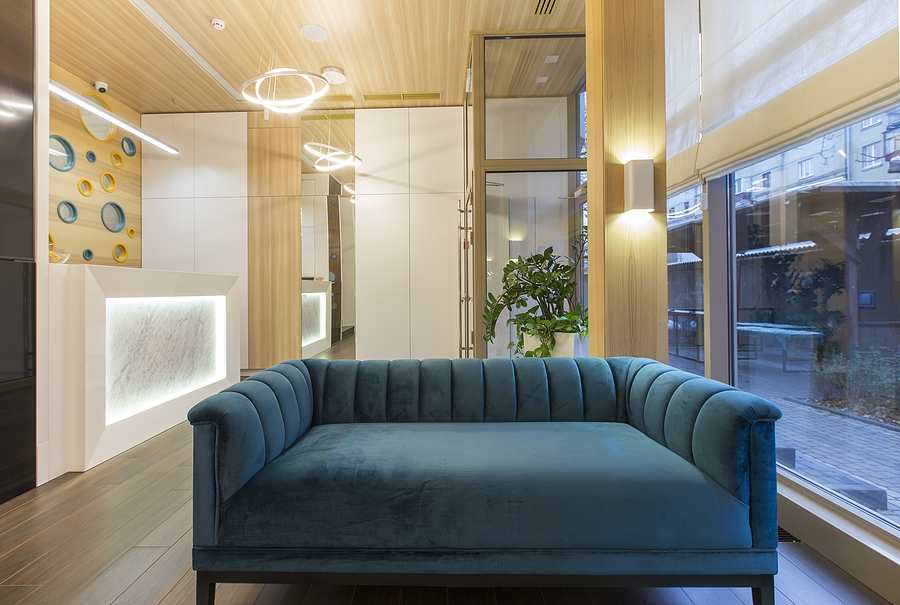 COVID-19 is on everyone's mind and it can be overwhelming to handle infection controls. Some of the thoughts may involve renovating your existing office by removing, changing or installing new doors. Not all doors are created equal and that the doors in your building may serve multiple functions, therefore renovations to the office layout should be reviewed by design professionals.
Doors provide more than simple access between two spaces. Doors also provide functions in areas of sound isolation, security, and aesthetic. In terms of types of doors, common door types often found in dentist offices include swing doors, pocket doors, and sliding doors.
This topic was covered on our weekly radio show.
Adding walls and doors, including retrofitting existing semi-open treatment rooms into treatment rooms with functional doors should be reviewed by design professionals for functionality and building code compliance, which can have major impact on the work needing to be done, for example:
Stay ADA Compliant
Depending on the width of the existing treatment room, the size of the 12 o'clock cabinet, and how many doorways a treatment room already has, installing doors may not happen without first changing the size of the treatment rooms. The American with Disabilities Act mandates the door (if only or the larger door, if two) is to provide unobstructed clear distance (18" on pull side and 12" on push side) from door opening (latch side) to the closest obstruction. In lieu of renovating all treatment rooms with new doors to be in compliance with the American with Disabilities Act, the local code officials may only require you to renovate a limited number of treatment rooms to be compliant, and that is worth having a conversation with the code officials to make sure the scope of the proposed retrofitting is possible. Depending on the dental delivery system being used, you might be able to use a single door (3'-0" wide) or switch the equipment layout to a toe entry treatment room.
Fire Ratings
For dentist offices with semi-open treatment room the corridors are usually not designed/ constructed as fire rated wall assemblies; however, enclosing the treatment room doorways and installing new doors may require the existing corridor walls to be upgraded to fire rated wall assemblies and the new door be fire rated doors, since corridors are part of the egress route and the wall assemblies delineating the corridor are often required to be fire rated assemblies.
Doors should be selected to meet the functional objectives whether it be noise isolation, environmental separations such as smell, pollutants, lighting, limited access to the building and or areas within the building. The 3 main types of doors and their attributes are listed below:
Swing Doors
Swing doors could be fabricated from numerous types of materials, various design options and sizes for practically any criteria. Important considerations for swing doors include ADA compliance, fire rating, performance, and level visual connection between two spaces. Swing doors are the most common type of doors, and have the most functional options.
Pocket Doors
Pocket doors are mainly used to shut off the treatment rooms for noise isolation when needed. Though a pocket door is not the best choice of doors to use for noise isolation, it is an option usually due to the lack of width for swing doors. It is highly recommended that high quality grade track hardware be used to ensure trouble free service life. Select door hardware that provides users with grab handles and not recessed finger push/pull.
Sliding or Barn Doors
Sliding or Barn doors have been gaining in popularity for dental office use, more for its notoriety than functionality. Like pocket doors, not the best choice of door for noise isolation, but a choice due to lack of width for swing doors but with an added aesthetic wow-factor. It is highly recommended that high quality grade track hardware be used to ensure trouble free service life. The doors encroach into the corridor by a few inches plus the door handles, which may exceed the code allowable 4" maximum extrusion beyond the face of the corridor walls, so check with your design professional for advice.
Visual connectivity between two rooms where two or more occupants use the spaces at the same time cannot be ignored or overlooked. For their own protection, doors between these spaces should, at minimum, have vision/light panels.
Doors take a lot of abuse, especially doors in high traffic areas. Installing quality commercial grade doors and hardware will ensure long and trouble-free service life. With COVID-19 still looming over society, talk of touchless accessories and apparatus has also picked up serious interest and touchless doors deserve some consideration. With that said, entry doors and perhaps the back door would warrant being installed with an automatic operator or activator, minimizing the need to touch the doors. Glass doors or one with a large glass surface are impervious and a good surface that's easy to maintain.
Why Choose HJT
Your dental office is a direct representation of you, the dentist, and your visions. It's important that it reflects you and the quality of care you provide to your patients. We welcome the opportunity to bring your visions to light through insightful designs that meet your clinical requirements and aesthetic criteria while optimizing efficiency and functionality for your practice's everyday needs.
With our years of collective knowledge and experience we have a deep understanding of the functionality and unique needs within the dental industry. We invite you to contact HJT (866) 213-1268 to start the dialogue regarding a plan for your current or new office and how we can implement your unique visions. We look forward to talking with you soon.