How Big Should Your Dental Office Parking Lot Be?
Posted by HJT Design
Whether you'll be sharing parking with other tenants or have it all to yourself, parking must be on your shortlist of must haves. A shortage of parking in your dental office parking lot can have a negative effect on your practice. Make no assumptions that the existing parking at the vacant building you will be rehabbing for your new office will be available. It will more than likely require changes to be in compliance with the current zoning ordinance guidelines of you area, if such changes are even realistically possible. If not, special provisions and/or special use variances will have to be granted. The minimum parking requirements for a business are typically determined by the occupancy group and floor area of your office building. The parking that currently exists may not be sufficient when compared to the actual demands of your practice. To ascertain your parking needs, you'll want to shoot high and calculate for maximum demand at peak hours. Remember, it's always better to have more than you need.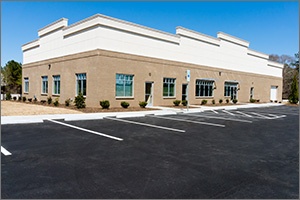 Customer Needs
Site selections should take into consideration ease of access to the site, the easier the more desirable. Layout of parking areas should be simple to minimize confusion and stress. Ultimately availability and convenience are the two high points of desirability for patients. The quicker they can get to your front door the better.
Layout
Lastly, for from-the-ground-up projects there is more to providing for parking requirements than simply paving a swatch of dirt with asphalt pavement and paint stripes. Everything on your site is co-dependent of each other and each element can enhance, or effect, the effectiveness of the whole sum.
What would be the ideal (and safe) traffic flow for your site?
Should there be separate parking for staff and patients?
Where and how will goods and services be delivered to the building?
Should staff have a dedicated entrance?
Where should the detention pond or ponds be locate?
Could they be used to enhance the site's curb appeal?
Where should refuse dumpster be located so that it's easy to service without diminishing the curb appeal of your practice?
The location of your signage, the look of the site's landscape and its potential for snow storage are all elements to consider. Your site's design can send a strong and positive message to reinforce your brand. Plan your design thoroughly and you can make your business truly stand out from the rest.
HJT welcomes the opportunity to discuss your project needs and apply our expertise and experience in assisting you achieve your practice objectives.
Regardless of the magnitude and complexity of your project, our staff of experienced professionals are poised and ready to help navigate you through the process and fulfill your specific needs. If you're not too sure where or how to start with the process, contact HJT to schedule a free consultation for answers and knowledge to prepare and empower you in moving forward with confidence.