How Big of a Lot Will You Need for a 6-Operatory Dental Office?
Posted by HJT Design
Determining the required lot size for your dental office build will be based on the number of operatory rooms you want to have, as well as the amount of parking and outdoor space needed around the building for zoning reasons.
Size of Your Building
You will need between 300-400 square feet of space for each treatment room you want to have for your practice. Therefore a practice with six treatment rooms would require between 1,800-2,400 square feet in its office area. This is applicable to both leased tenant space and from-the-ground-up buildings.
Size of Your Land Parcel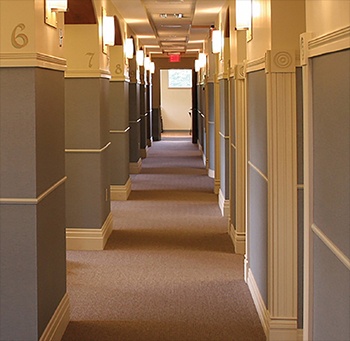 If you're building a standalone office then the minimum land parcel needed to accommodate the building, parking requirements, any green areas, and surface water retention/detention should equal the building area times 9. For a 6 treatment room office building, the land parcel needed would be between 16,200-21,600 square feet (.37-.5 acre).
Listen to the Podcast
In theory this is all pretty simple. However, a few points of caution should be heeded such as, but not limited to: presence of wetland areas, easements, dramatic changes in topography and planned future public infrastructure. Any of the items mentioned above could reduce or effect the optimal usability of the land parcel.

Depending on your needs, possible future expansion will likely need to be built into the business plan for your practice. If growing-in-place is your long-term objective then your selected land parcel should be based on your future land requirements or options to annex adjacent properties as they become available for purchase.

Previous use/occupancy and current zoning districts should also be confirmed and taken into account when considering any particular land parcel for your new office.

HJT loves helping create amazing dental offices! We would like to hear about your project. Contact us today!