Maintain Patient Confidentiality with an Improved Reception Area
Posted by HJT Design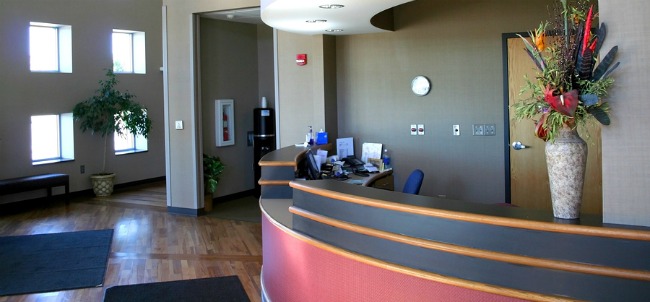 Maintaining the confidentiality of your patients is an absolute must. While the dental professionals and staff working in your dental office know this, a breach of confidence can still occur as a result of a poor office design. Even if it doesn't, you'll also want to make sure that patients don'tfeellike their confidentiality is being breached since this affects their trust in you.
For example, you don't patients to feel like everyone can hear why they are there when they are checking in because the reception area is located right in the middle of the waiting room. As a result, patient confidentiality should be one of your most pressing concerns when it comes to your dental office design. The following are a few ways that you can improve your intake area and number of operatories in order to maintain the confidentiality of your patient.
Make it clear where patients need to go
If patients don't know where they are supposed to go, they could end up wandering into patient treatment areas in search of assistance, which could compromise the confidentiality of other patients. Having patients wandering around the hallways trying to find where they need to go can cause a bottleneck as well, which can cause your dental office to become disorganized.
You need to make it obvious where patients need to go. While an effective layout will make it more visually obvious (such as building your reception desk in view of the entrance), you should also incorporate signage throughout your practice.
Separate check in and check out stations
You don't want patients who are checking in to have to wait for patients who are checking out and vice versa. This cause a group of patients to stand around the reception area waiting to be helped (and risking that they overhear why other patients are there).
Design the reception area to have two different stations where patients can check in and check out to prevent frustration and potential breaches of confidentiality.
Optimize your office layout for smooth patient flow
The layout of your dental practice will have a huge impact on the level of confidentiality. For example, if your treatment area is right by the entrance, then patients walking into and out of your practice are more likely to walk into these treatment areas by accident in search of the reception room. If you have an open treatment area, then this type of design is even more flawed.
Instead, the reception area should be near the front and the treatment area near the back if possible. You also won't want the treatment area to be located between the reception desk and the waiting area as this will require patients who check in to walk through the treatment area to get to the waiting room.
Take into account internal traffic flow
Internal traffic flow is just as important as your patient flow. Designing the reception area so that it's easy for staff to find what they need without getting in their way is essential. If it's not well designed, it will become too easy to lose track of important information and to make mistakes regarding patient records, which could risk their confidentiality.
The patient intake area is one of the most important aspects of a dental office design. A well-designed patient intake area will help prevent bottlenecks and will keep patient and staff traffic flowing, thereby helping you to maintain the confidentiality of your patients.
For more advice on how to improve your dental office design, be sure to contact us at HJT Dental Office Consultants to schedule a free consultation today.