Finding the Right Neighborhood for Your Dental Office
Posted by HJT Design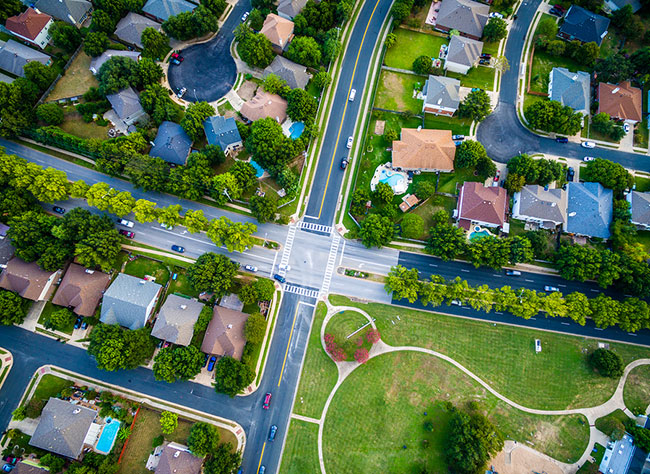 There are many questions to ask when it comes down to where you should setup shop. What part of the country would provide you with the best of opportunities for family and lifestyle? What is the setting that would best fit your business model and services? What are your growth potentials etc, etc.? There are countless of consultant services that specialize in surveying the landscape and are available to perform demographic studies to help your dental office; for this discussion, we'll just focus on the location.
Signage
Use signage that is clear, well lit, easy to read and as large as possible. This ensures that you will be noticed. If located within a retail strip, it's better to be closer to larger Anchor Store for more exposure. Well maintained building and site will increase your curb appeal. Well lit site adds a greater sense of security and more visually appealing.
Visibility matters
Largely, homes with children require more health services than those without children. With that in mind, locating your office near or within shopping centers with grocery anchor, banks, and schools where you are easily and routinely seen will provide you with a greater opportunity to be their first choice for services. Removing visibility from your success formula can set your growth potential back and affect your business bottom line.
Access
When assessing your location do take into consideration how easy or difficult, it is for your patients, to navigate traffic to get to and into your site. A corner location at busy intersection has its pros and cons, you may get more visibility but it may be more difficult to get into or out of the site. Turn around or U-Turns, aren't fun, and could be a deterrent for some patients. A site with multiple curb cuts or entry points is much more convenient and desirable.
Competition
Competition can be good; however, too much competition can hamper your opportunity for growth. A favorable dentist to patient ratio is good and a growing community can make competition a bit less of a concern.
Growth
Whether you're in a retail strip or a singular stand alone building, an important question that beckons for a "yes" answer would be "Do you have the ability to grow in place?" Relocation is expensive and disruptive; therefore the ability to increase your office physical size for future needed clinical space should be an important consideration for your business plan.
Affordability
What will it cost me to build my practice at this location, the size I wanted, and amenities I need? Establishing, early in the planning process, what kind of money you have to work with will help in determining how much of a practice you can afford and what budget you must adhere to. Consult with your CPA and Banker to establish your financial budget. Next, seek the assistance of an experience real estate broker that is familiar with the dental industry and the community to assist you with finding that ideal location for your new office.
Regardless of the magnitude and complexity of your project, our staff of experienced professionals are poised and ready to help navigate you through the process and fulfill your specific needs. Start your project with HJT and schedule a free consultation for guidance and solutions to ensure a smooth and successful process.