From Dirt to Dental Office: Questions for Your Contractor
Posted by HJT Design
Hiring the right contractor for your dental office design is extremely important. You will want to find someone reliable, someone with experience who can help you budget properly and answer your questions effectively. Indeed, if you choose the right contractor your project's level of success will dramatically increase. However, hiring a general contractor is only the first step in the ongoing relationship you will have throughout your dental office design and build-out. Once the general contractor has been chosen, setting out a solid timeline with regular milestones is priority. In addition, establishing expectations for regular communication and meetings is also necessary. Here are some of the most important questions to ask between choosing your general contractor and breaking ground. And always remember, you can use the construction management method for your project as well.
Do You Have A Schedule In Mind?
Your general contractor should have a clear idea of what tasks they will need to complete and in what order they should complete them. If all of the details of the design have been finalized it is up to them to implement their plan in a logical and orderly way with clear milestones for you to check off. In some cases this can include electrical wiring and plumbing inspections, closing up of walls, and other major check points where it is easy to see that the construction has moved on to another stage. Maintaining a strong schedule from the start of your project is extremely important as it will help you budget accurately and ensure that you will be able to start earning income as soon as possible.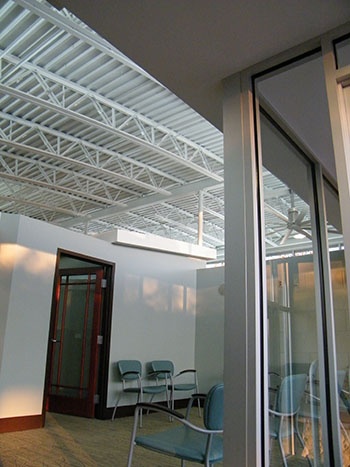 Whose Hands Will My Property Be In?
This is an all-encompassing question relating to both the contractor's direct involvement in your dental office design build out and the security of your location. You will need to learn whether or not they will be on site every day during the process, or if there will be a team lead who will be directing subcontractors. In addition, determine who will be holding the keys to the property, and whether they will be locking and unlocking doors as they come and go from the premises.

How Will We Be In Communication?
Establishing clear and reliable means of communication during the construction process is absolutely nonnegotiable. Make sure that you have a direct line of contact with your general contractor so that you can answer and ask questions throughout the process as needed. Changes in the plan need to be approved by you and any hangups in the construction that will cause delay need to be addressed.
When Do You Need To Be Available?
You will want to make yourself available for major inspections and regular consultations with your contractor to stay apprised of the progress. Being engaged in the construction process means checking in and verifying the progress for accuracy so any issues can be identified and corrected before it is too late.
When Will It Be Done?
Final completion date is the most important part of the project. This will give you one final opportunity to walk through, look around and make sure everything is according to the design on paper. Double check that lighting, electrical outlets, plumbing and any other areas of concern are in proper working order to ensure that the job was done completely and correctly.
The build out of a new dental office design involves many phases of construction. It is best for you to stay on top of developments in the construction by making sure that you have established a solid working relationship with your general contractor from the very beginning. You can do this by asking the right questions and creating a positively engaged means of communicating about the project while it is underway. Remember, finding the right contractor is only an element in a larger equation. However, it is an extremely important element, one which will have a tremendous impact upon the timeliness of your project and its final state. You will need to find someone who knows their industry inside and out, who can provide you with the help you need at a pace that matches your schedule. Take the time to find the right contractor and your project will be off to a fantastic start.
Regardless of the magnitude and complexity of your project, our staff of experienced professionals are poised and ready to help navigate you through the process and fulfill your specific needs. If you're not too sure where or how to start with the process, contact HJT to schedule a free consultation for answers and knowledge to prepare and empower you in moving forward with confidence.