Tips for Keeping Your Dental Patients Calm and Comfortable
Posted by HJT Design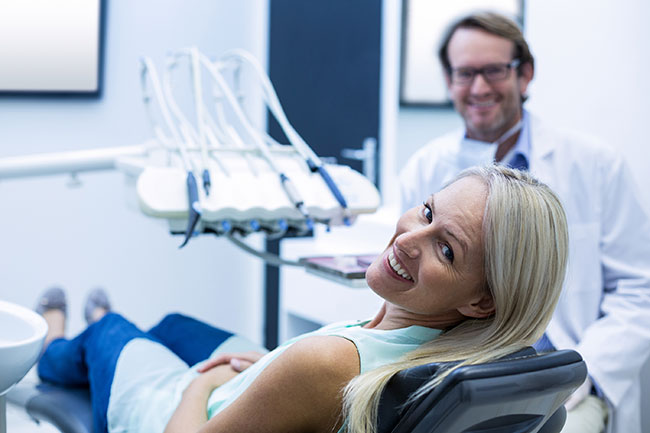 Too many dentists fall into the trap of viewing their office as just the workplace. Shift perspectives for a moment to consider the viewpoint of a patient. Most patients are extremely nervous when visiting the dentist. The majority of dental offices are laden with white walls, fluorescent lights, and harmful-looking dental instruments. A little remodeling has the potential to transform your dental practice from an intimidating and nerve-wracking place into a tranquil one.
The View From the Entrance
Put yourself in the shoes of your patients. Stand in the practice entryway as a patient does when entering the facility. Consider whether a patient would feel nervous or at ease when entering the office. Do you like the looks of the office from this perspective? Are the walls overly plain? Do the lights illuminate the lounge?
If the office appears drab or even slightly uncomfortable, take action. Consider rounding out the edges of the front desk to create a more inviting aesthetic. Replace insufficient lighting with warm lights that illuminate the practice in its entirety. Consider adding paintings or fresh paint to walls that feel stale.
Liven up the Office
If you were to pose as a prospective patient, you would likely notice subtle features that really make the difference between drab and calm. Add some fun to your practice in the form of a fish tank, a TV or even a video game system. Screens are especially important for the younger clientele who tend to be captivated by cinematics and video games. In fact, plenty of orthodontic practices rely on in-office video games to put younger patients in a relaxed state before treatment.
Add a small waterfall or aquarium to your practice and your patients will feel quite peaceful. Studies show that aquariums slow the heart rate and enhance mood. Waterfalls are calming from a visual and audio perspective. They generate "pink noise" that induces feelings of tranquility. A waterfall is especially important for patients who are overly anxious and need a means of settling down before seeing the dentist. Even the addition of a window will improve the mood of your patients. Outdoor imagery provides patients with something peaceful to focus.
Improve Patient Comfort
Patients deserve comfortable seating that is less than a decade old. If your office has outdated chairs, seating with tears or any other visible flaws, invest in new furniture. Opt for stain-resistant fabrics that match your office's color scheme and your patients will feel that much more comfortable while waiting to be seen.
Play Peaceful Music
Play local classical music station through a speaker system or, provide patients with headsets loaded with peaceful songs. Play the right music in the moments leading up to dental treatment and patients will be in a much more relaxed state before receiving treatment. Furthermore, they will perceive pain as less severe than it actually is.
Boost Your Patient Retention Rate
The subtleties of your dental office really do add up to make a massive impact on the patient experience. Wouldn't it be nice if all of your patients felt at ease for every visit? Incorporate the suggestions detailed above and you will likely notice a significant shift in patient temperament. More importantly, these patients won't dread going to the dentist nearly as much as they used to. The ultimate result of these simple remodeling tips will be a much-needed uptick in business.
All of these factors must be considered before your office redesign begins. If you have questions, or need advice, contact HJT Design today.