Should I Relocate my Dental Practice or Gut the Existing Location?
Posted by HJT Design
If you are looking to refresh or revitalize your dental business, change is inevitable and necessary. You may feel that your current location is inadequate, or that there is not enough demand for your services in your given area. Deciding what types of changes need to be made to your business can be an overwhelming experience, but it does not have to be. While some business advisors insist that office relocation is the obvious solution, others state that renovation is the better, less abrasive option. Below are a few factors to consider when taking that first step towards revitalizing your business.
Factoring in the Variables
Here are a few questions to ask yourself so you can determine what option is ideal for your practice:
How appealing is your current location to clientele?

Is the office space large enough to accommodate your, your employees' and your patients' needs?

What is the base of referring dentists in the area?

Is the population of your current location or potential future location experiencing growth or economic recession?

What are the numbers in regards to "downtime?"

What are the costs of renovating vs relocation?

Is the original dental office design correctable?

What are you plans for your practice in 5 or 10 years?

Is relocation going to cause profit losses?

How difficult is it to find a viable new space for your office?

Which option will disrupt your business the least?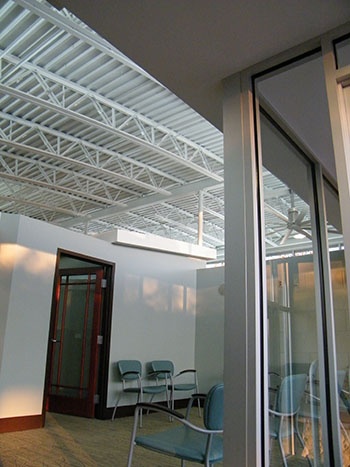 The 4 B's to Better your Business
Budgeting- Cost-effectiveness plays a vital role in determining whether you decide to move or makeover your dental practice. Examine your lease to learn the renewal date. Is the lease price negotiable over the next 6 months? If so, is it worth it to move on so quickly? How much time has been allocated to your renovation project? As construction persists, costs increase. Have you hired a quality design firm who will ensure your dental office's design will be finished in a timely manner?
Behaviors- How do your employees function in your business? If you observe how they positively or negatively respond to specific changes in your dental office, you'll be able to decisively choose what adjustments are needed to encourage your employees' productivity. How would your employees fair if you relocated? Would it require hiring new employees?
Building- If you determine renovation is the better choice, will specific rooms be renovated or will it require gutting the entire office? It is important that your building has "swing space" for renovations. Your employees and patients will need elbow room and so will you. Complicated renovations require more area to move around in while simple renovations can be completed successfully even with limited space available. What kind of space does your office building have?
Beauty- How does your dental office design fair in comparison with other modern businesses in the area? Aesthetics, flow and convenience should all weigh in on your future renovation plans. Does your design team have their eye on the current trends? Knowing and applying what you know about your local clientele can help you incorporate the right changes to make your dentist practice a self-sustaining business.
Establish a Refreshing Layout
A customized dental office design can revitalize and revamp your profits and overall appeal to clientele. Relocation is another option, but you are not guaranteed better results. A fresh new look can bring perspective instead of costly upsets. Start your business trending by appealing to your patients' (and employees') finer senses, with aesthetically pleasing decor, a comfortable seating, and an overall design overhaul.
Regardless of the magnitude and complexity of your project, our staff of experienced professionals are poised and ready to help navigate you through the process and fulfill your specific needs. If you're not too sure where or how to start with the process, contact HJT to schedule a free consultation for answers and knowledge to prepare and empower you in moving forward with confidence.