Asking the Right Questions Before Your Plan is Finalized
Posted by HJT Design
You're probably excited about the prospect of a new dental office design, but it's important to approach such a major project with caution. A new design isn't just a way to get rid of long-standing stains and fix up a few parts of your office which look rough around the edges. It's a chance to revitalize the way current and future patients perceive your practice. To that end, we recommend that anyone currently developing or considering a dental office design plan ask their firm these simple questions.
"Do you have any references I can contact?"
A simple question which offers a ton of insight into the business you're working with, this should head up any list of questions to ask a contracted firm—for any task. A reputable design-build team should be able to quite easily provide an extensive list of satisfied customers willing to talk to you.
Ideally, you'll be able to talk to someone with similar circumstances and a recent experience, as companies can change over time and excellence in one area doesn't always translate to excellence in others. When you do get references on the phone, make sure to ask them the questions you'd like to ask but wouldn't expect a business to be wholly honest on: whether they stayed on schedule, communicated well, worked within budget, etc.
"Do you have specific or relevant experience with dental office design?"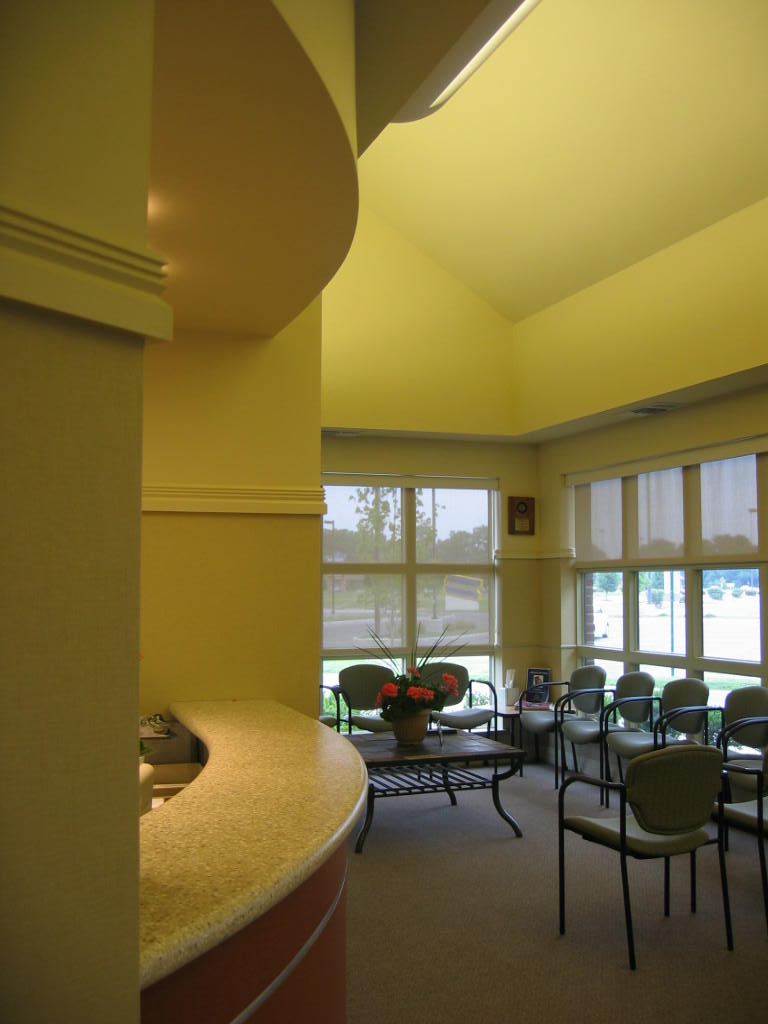 Dental office design overlaps in many ways with other medical practice offices, especially across less specialized rooms. That means you should probably establish that as your bare minimum expectation from a design firm—familiarity with medical practices similar to your own. Ideally, they'll have specific experience with dental practices akin to your own, and be able to provide an appropriate reference.
Don't be too quick to take 'experience' as being necessarily good. You should also ask to see examples of the work done for similar clients, so you can see what you're really getting into. After all, a firm may have several similar clients in their history—and zero satisfied similar clients. Make sure the company has proven its ability to handle dental office design with skill and aplomb, rather than simply 'completed a few similar jobs'.
"Can you minimize disruptions in any way?"
As much as is possible, you're probably going to want to keep operating your practice during remodeling. That means making sure the team you're working with considers your operations in planning and works to accommodate you. Ideally, the vast majority of the work can be completed in off-hours, and most of the rest without a complete shutdown.
If one or more aspects of your new design will require a true shutdown of the business, make sure you communicate clearly to establish a timeline and ensure the absolute bare minimum of closure. A bit of creative thinking and consideration can have an extreme impact on the total disruption to your business—make sure you're not going to suffer on the back-burner for weeks or months. Remodeling of an active business should always be a quick, surgically precise operation.
Parting thoughts
With these three questions guiding you, it should be far easier to assess the ability of a given design-build team to produce an exceptional dental office design. Given the importance of a good office to building patient goodwill, you don't want to end up with a sub-par result—a bad office can destroy a dentist as effectively as poor medical care would. Do your homework, and make sure you're making a sound investment for the future.
Regardless of the magnitude and complexity of your project, our staff of experienced professionals are poised and ready to help navigate you through the process and fulfill your specific needs. If you're not too sure where or how to start with the process, contact HJT to schedule a free consultation for answers and knowledge to prepare and empower you in moving forward with confidence.