What's Trending in Dental Office Design Ideas?
Posted by HJT Design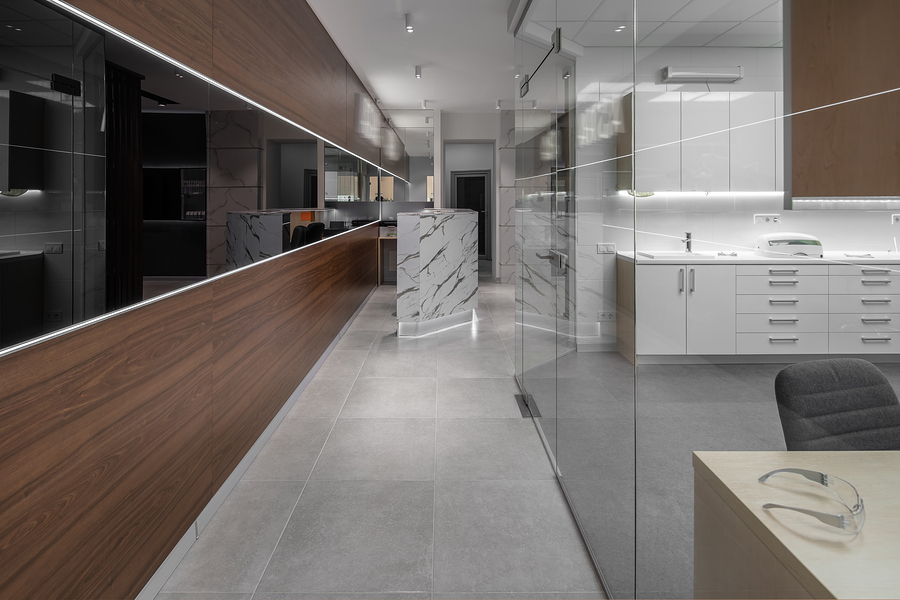 Some design fads come and go in the world of interior design, but when it comes to dental office design, the right modern design trends-when implemented effectively- can make a dental office more aesthetically appealing to patients while also improving workplace morale and productivity. When people feel good about going to work, they work hard. When patients like the visual image that they see when visiting the dentist, they tend to have greater trust in the practice and the work provided. The right dental office design trends truly can make or break the success of a dental practice.
Here are five modern trends in dental office design that could help take your community impact to the next level.
Patient-Focused Design and Décor
In past decades, dental office design was often rather cold, sterile, and boring. Drab color schemes, uncomfortable chairs, and dim fluorescent lighting commonly filled waiting rooms. Luckily, dentists began to realize that patients are happier and easier to work with when they feel relaxed and comfortable while they wait.
Today's modern design trends feature more natural aesthetics with hardwoods, natural stone, plant life, or even trendy metallics accented throughout the waiting room and office. Because design trends usually change with the decades, patients tend to have more confidence in their dental providers' skills when the office looks up to date with design and technology. The trick is to identify your target audience of patients within your community and then design a space that will connect with their style.
Themes
Creating a dental office with themed décor can be the perfect way to attract new patients and connect with them on a more personal basis. Dental offices designed with a central theme can create buzz within the community, put patients at ease, and create opportunities for conversations between patients and the staff. Themed interior design trends are common within pediatric dental offices, but they also are becoming more of a trend within general practice dentistry offices. Simply know your target patient group and choose an eye-catching design theme that means something to you and resonates with your audience.
Open Floor Plans
Open floor plans have become very trendy in modern dentistry because of their promotion of office collaboration, communication, and overall productivity. Open floor plans can allow for themed décor throughout a pediatric dental office and centralized storage of dental tools, disposable items like gauze or bibs, or even patient amenities such as toothbrushes and dental floss. Open floor plans not only promote increased workplace efficiency, but they also open up a world of possibilities for dentists hoping to bring a little creativity and WOW factor to the space.
Modern Accent Lighting
Lighting is extremely important in a dental office because it provides essential visibility for ideal results. However, lighting is more than just a functional part of a dentist office's interior design. Accent lighting has become an integral part of the overall aesthetic appeal of an office space. Accent lighting can highlight and set apart specific areas within the office. Modern lighting (and its related fixtures) can be utilized as part of the modern décor of the room. Choosing custom lighting fixtures with modern flare can add beauty, excitement, or drama to any space.
Bringing a Sense of Home to the Office
More and more of today's patients want to visit a dentist office that is warm, comfortable, and adorned with the latest trends in décor. Modern amenities such as comfortable chairs or sofas covered in rich upholstery, luxury coffee makers, the latest technology for easy check-in, and even current trends in wall décor go a long way in painting a picture for your patients of your office's relevance in modern dentistry.
Creating an environment where patients feel comfortable and at home encourages them to create trust, confidence, and a familiarity with your practice. When they feel at home at the dentist, they'll be more likely to come back for regular return visits. This is good news for everybody.
Design trends come and go quickly, so if you're considering a dental office redesign, it's important to find a quality consultant who understands changing dental office design ideas and the practical needs within the dental industry. HJT has a well-established team of dental design consultants with the industry experience necessary to bring modern beauty and functionality right where your office needs it most. Contact us today for free cost evaluation to get started.